Century 21 Wildlife Properties is based in Hoedspruit, Limpopo, South Africa and in the heart of "Big 5" country. The area is one of South Africa's biggest Tourist attractions, and on all seasoned travellers' "bucket list". Hoedspruit is situated in the Lowveld, 50km west and midway between Orpen Gate and Phalaborwa Gate and is the gate-way to the heart of the Kruger National Park. The town is situated amid famous game reserves such as Timbavati, Klaserie, Balule, Selati, Karongwe, Makalali and Thornybush Game Reserves. There are also many private game farms and hunting lodges. Hoedspruit is the perfect place to come on Safari in Africa, with good roads, rail, and air transport infrastructure. There are daily flights into Eastgate Airport form OR Tambo International Airport in Johannesburg.
The town has transformed a lot over the years. It was an Air Force Base town with Hoedspruit Air Force Base and the Drakensig Residential Area being built in the 1970's. While the base is still in operation, the town has evolved to more of a holiday destination and more recently residential with more people living here permanently.
More and more people are relocating to Hoedspruit for retirement or permanent living. This is due to the stunning scenery, wildlife, good weather, good internet access, remote working possibilities, and extremely low crime levels. The lifestyle change is phenomenal.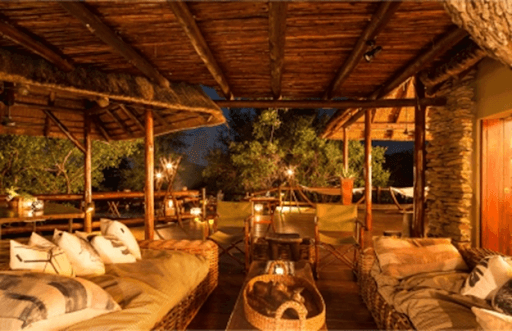 The climate in Hoedspruit is warm all year round with approximately 550mm rain per annum and sunshine around 320 days per year. Average temperatures in summer are around 31 degrees Celsius, and about 26 degrees in winter, making for nice warm days almost year-round.
There's Hoedspruit Civil Airstrip right in the middle of town, which has a flight school. So, learning to fly in Hoedspruit can enable you to fly over all the many game farms, private reserves, wildlife estates and see the bush from above.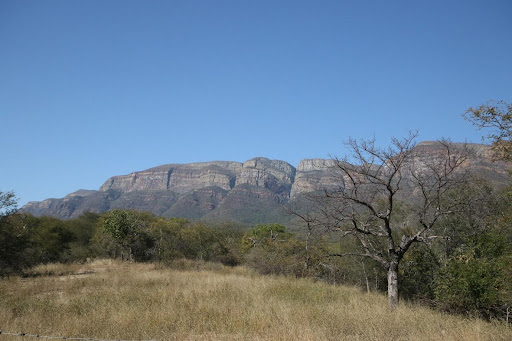 The area is unique in that it is a wilderness haven and a highly scenic part of South Africa. It has the Northern Drakensberg Mountains towering up to 1900 meters, with lichen covered cliffs. Mariepskop Mountain is unique for its fauna and flora diversity and contains hilltop grassland, tropical mist forest, and capensis "fynbos" species. Five species of Vulture soar off the thermals from these mountains. This mountain alone has more plant species than the Kruger National Park and Table Mountain in Cape Town combined.
In the Hoedspruit region there are two of South Africa's most important rivers, the Olifants River that runs through the Kruger National Park and the Blyde River. The Blyde River Canyon, which is the world's largest green Canyon (due to all the plants found here) and third largest Canyon in the world. Both rivers are well known for populations of Crocodile and Hippo. The Blyde River offers life to a high diversity of red data trees, birds, fish and amphibian life, and has a unique riverine forest. Pels fishing owl and Fish Eagle are found on this river.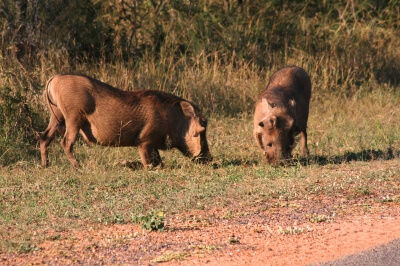 The Lowveld bushveld is unique in South Africa and contains large amounts of combretum, marula and acacia. Here you find 2000yr old Baobab Trees and 1000yrs old Leadwood trees. This area is fondly known by many South Africans as "the bush". The result of these mountains, canyons, rivers and bushveld is a high diversity of animal and birdlife that makes this one of the worlds premium destinations for game viewing.
A big favourite for safari goers is the "Big 5"- Lion, Leopard, Elephant, Rhino and Buffalo. However, there are many other game species that are popular such as Giraffe, Kudu, Hippo, Crocodile, Kudu, Waterbuck, Nyala, Cheetah, Wild dog, Warthog, Impala, Wildebeest, Hyena, Baboon and Zebra to name a few.
Other than game drives and bird watching there are many other activities that can be done in the area. There is hot air ballooning, microlight flights, elephant back safaris, hiking trails, boat cruises on the Blyde dam, river canoeing and tubing. There is also a golf course in the Air Force residential area, Drakensig.
On the 20th of September 2001 the Kruger to Canyons (K2C) Biosphere Reserve was registered in Paris by the United Nations Education, Scientific, and Cultural Organisation (UNESCO). Biosphere Reserves are designated regions throughout the world where internationally important ecosystems and protected areas lie adjacent to human settlements, and are established to promote solutions to reconcile the conservation of biodiversity and its sustainable use.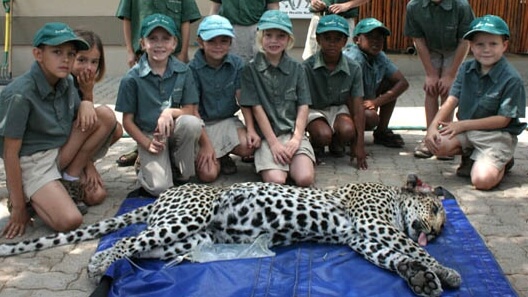 Hoedspruit has several private schools, with Southern Cross Schools being internationally renowned. The school is a truly unique, value-based, co-educational complex of schools, based on Raptors View Wildlife Estate on the outskirts of Hoedspruit, South Africa. Its ethos is entrenched in an environmental code, which serves as its vehicle for instruction. The methodology through which learning is facilitated, is learner-centred and outcome-based. Southern Cross is the first nature- based school in South Africa and possibly the world. The school has an environmental philosophy, and a determination to make a difference in ensuring a sustainable planet for our future generations. Based in the Kruger to Canyon Biosphere Region, the school has a strong commitment to the local environment and to community upliftment. As a result, many parents have given up the city life to move to the bush for a better quality of life and upbringing for their children.
Some of the other great private schools in town include Lowveld Academy, Hoedspruit Christian School and Baobab Montessori. Junior schooling can also be done at Drakensig and Mariepskop Primary Schools, both well run and still very popular, offering a high standard of. Hoedspruit High School recently opened their doors as well. For the younger children there is a variety of options with regards to pre-schools and day care centres.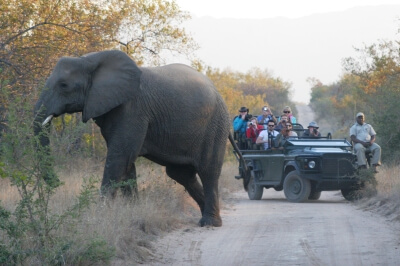 Hoedspruit has become cosmopolitan safari town with people from many countries visiting and purchasing property in the area. Other activities in the area include trail running, MTB cycling, gym, yoga and taebo, and dance. There are several restaurants offering international and local dishes situated in scenic locations. The local shops sell a multitude of curious and crafts from the area including locally made silk products, Amarula Cream the alcoholic beverage made from the fruit of the Marula tree, wood and stone carvings among others.
There are many excellent restaurants in Hoedspruit offering a wide variety of cuisine for tourists and residents. Favourites are Sleepers, The Hat & Creek, Marula Bar, The Brewery, Meridian Blue, and Kalimambo with its authentic Indian food and Indian owner. A little way from town you get Upperdeck in Kampersrus, Anne's Cotton Club, Three Bridges, Blue Mountain Restaurant, Thirsty Giraffe, and Bush Pub & Inn, just to name a few…
Other activities of interest are Moholoholo Wildlife Rehabilitation Centre, the Hoedspruit Endangered Species Centre, Jessica the Hippo, and the Blyde Canyon. The Blyde River Canyon is the third largest Canyon in the world, and the world's largest "green" canyon. A trip to the Blyde Dam will be rewarded with mountain scenery, abundance of fauna and flora, waterfalls, and hiking trails.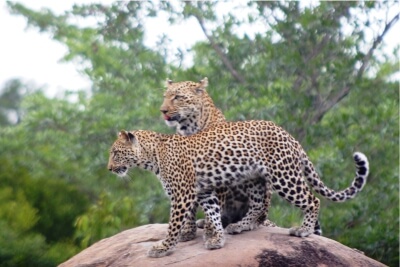 Shopaholics will love the Kamogelo Tourism Centre, with its wooden walkways and quaint thatch roofs. There are a variety of Curio shops and art shops. There is also the Wild Fig Centre which also has food and clothing shops. Hoedspruit is the perfect location for a safari and a great location to explore the area. There are many game farms, game reserves, and lodges to stay at in the area. No matter what your interests, you should not get bored in Hoedspruit.
Hoedspruit a tourist destination, safari destination and residential town. This has resulted in the demand for leisure property which is a mirror image of the environment. The result is private lodges situated on game reserves and on game farms. These lodges have their own modern architecture and combine natural thatch grass for roofs, wooden decks and living space that open onto glorious views of the bush in which they are situated.
Homes are not surrounded by walls or fencing, and animals are free to move between the lodges which offer home owners privacy from their human neighbours. These wildlife estates differ from place to place, but offer one common characteristic, that being, they share a sense of tranquillity and being in touch with nature.
Going to bed to the sounds of the bushveld and hearing owl, hyena, nightjar and perhaps even lion, then to awaken at sunrise to see a giraffe or wildebeest outside one's window, as the birds start their morning songs, is something that every person on earth should experience. Hoedspruit is truly a special place, unlike any other.
Many people have bought property and moved to the area since it offers such a great lifestyle. You can purchase property and live on a game farm, wildlife estate or game reserve and enjoy nature on your doorstep. The people are friendly, there is a sense of community, crime is extremely low, and traffic is almost unheard of. Hoedspruit does not even have a traffic light.
Hoedspruit has property owners from all over the world and at the local schools there are often kids from many different nationalities. The town is cosmopolitan in nature with around a third South African English, a third Afrikaans and a third foreign speaking.
Call us for a copy of our listings or if you have a Hoedspruit property for sale.
Century 21 Wildlife Properties specialises in all types of property within a 100km radius around Hoedspruit.